Z6_1P1811C0J8PP50AG9E973G30Q5
Z7_1P1811C0J8PP50AG9E973G3063
Term to Permanent Life Insurance with the companies of OneAmerica®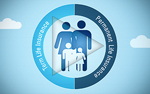 Term life insurance can protect you for a specific period of time. While initially the most affordable protection, after your "term period" the cost will increase substantially. You can transition to a more permanent, "whole" form of life insurance at any time during a term policy's "conversion period." Often, you can do so without answering any medical questions.
Benefits of Permanent Coverage
It is difficult to predict how your protection needs will change over time. Converting your term insurance can help assure that you are prepared for whatever life brings.
In addition to life insurance protection for your family in the event of your death, permanent life insurance can build cash value that you can use during your lifetime. You can also borrow against the cash value as part of a retirement income strategies, help with college education expenses for your children or pursue other financial goals.
Taking the Next Step
At OneAmerica, we believe in making transitioning to permanent protection a seamless process for you. Talk to a financial professional to learn how you can convert your term policy to lifetime protection in just a few simple steps.
Note:
Products and financial services provided by the companies of OneAmerica®.
Life insurance is medically underwritten.
Life insurance should be purchased by individuals that have a need to provide a death benefit to protect others with insurable interests in their lives against financial loss. Life insurance is not a retirement plan, investment, or savings account.
Withdrawals and loans from a life insurance policy reduce the death benefit and cash value, may increase the chance the policy will lapse, and may result in a tax liability if the policy terminates before the death of the insured.