Z6_1P1811C0J8MB60AG10EMND2OD4
Z7_1P1811C0J8MB60AG10EMND2OD7
Term Life Insurance
Affordable Coverage to Give You a Sense of Security
You insure your valuable assets, such as your home and automobiles against damage and loss, usually to the full amount they are worth. Have you taken steps to protect your family's most valuable asset – you? Term life insurance is generally the most affordable way to protect yourself and your family. While your employer may offer you term life insurance, it is likely not your full Economic Life Value. Explore the features of term life insurance offered by American United Life Insurance Company®, a OneAmerica company, or get information from a financial professional.
All of our term life insurance policies offer:
Affordable cost — You don't have to spend much to get started with term life insurance.
Defined term — This life insurance protects you for a specific period of time, which is the policy's "term". We have 10, 15, 20 and 30-year periods to choose from.
Level premium — Your premiums will remain the same for the life of your term policy.
Level death benefit – Your death benefit will not decrease* during your selected term period if the policy is active. After the level term period ends, the death benefit will be reduced, and premium may increase. Ten years after the level term period has expired, the policy will be terminated, and no death benefit will be payable.
Tax-benefits – While there is no cash value associated with term life insurance, the death benefit proceeds are paid to your heirs generally tax-free.
* The death benefit will decrease if the death benefit is accelerated due to the insured's terminal illness.
Is your need temporary?
If you have a temporary need only, such as a 30-year mortgage or coverage for a key-employee, our OneAmerica® Term is competitively priced coverage. Term life insurance can help loved ones feel they can meet their financial commitments, maintain their lifestyle and pursue goals if something happens to you.
Will your temporary need possibly turn into a permanent need?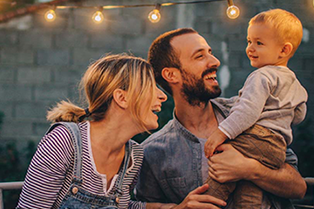 If you recognize you may need permanent coverage in the future or need permanent coverage now but can't afford it, our OneAmerica® Premier Term allows you to convert the term life insurance to any of our whole life policies made available in our life insurance suite. Our permanent policies build cash value you can use during your lifetime and provide financial protection for your loved ones.
Protect your commitments. We'll deliver on our promises.
What is my Economic Life Value?
Your Economic Life Value is the financial impact your family would feel in the event of your premature death. To help protect your family and lifestyle, consider life insurance as a solution. Life insurance is meant to replace your paycheck, employer benefits and your other financial contributions. Find out what your Economic Life Value is here.
How could term life insurance be used?
Term life insurance can be used to cover the financial loss to loved ones or ensure a business continues if you are no longer there. For individuals, besides your Economic Life Value, term life insurance could help cover student loans, a mortgage or future college costs. For businesses, you could cover a key-employee or create a buy-sell plan for business continuation.
Why would term life insurance make sense for me?
Want to make sure your loved ones can remain in the family home, take family vacations or attend the college you hoped for? Term life insurance can help give you peace of mind your loved ones will be taken care of.
Explore your options today!
Our Economic Life Value calculator can help establish how much coverage you may consider when discussing life insurance with your financial professional. Talk to a financial professional today to talk about term life insurance.
Z7_1P1811C0J0T2D0A8LD8R9Q20I1
Z7_1P1811C0J0T2D0A8LD8R9Q20A0
Notes: Products issued and underwritten by American United Life Insurance Company® (AUL), Indianapolis, IN, a OneAmerica company. Form series: T2300 and T2330. Not available in all states or may vary by state. Withdrawals and loans from a life insurance policy reduce the death benefit and cash value, may increase the chance the policy will lapse, and may result in a tax liability if the policy terminates before the death of the insured.
21-01050
Z7_1P1811C0JGA700A84EE6F130Q4
Service Starts Here

Have a question? Like more information?
Economic Life Value
Life insurance helps replace more than just your income.
Check in, Check up
Actively engage with your policies, plans and strategies.